Mar 10, '16 8:09 PM
Microsofts Hololens
Original post at:

https://thegrid.ai/sense-i/microsofts-hololens/index.html
Nov 22, '15 7:27 AM
There are so many discussion online on user experience, what it is and what it's not, and it gives me a headache every time I see a debate. There is in general just so much confusion. I can only suspect why that is:
Many young people feel attracted to UX, and get into the field without a proper formal education. I don't have a problem with this approach, as long as they educate themselves through other sources out there. And there are plenty of it.
Large organisations know they need designers, but don't know how to integrated us. Yes, unlike Sales, Marketing, Finance, HR, Business Development, Engineering, etc. we are a very different tribe with needs that are different from what organisations know.
Nov 21, '15 7:32 AM
Kurt Koffka, Max Wertheimer, and Wolfgang Kohler identified and described a number of perceptual biases. These biases help us identify groups of objects. There are several Gestalt principles that designers apply in their work, and six of them are of special interest in the context of desinging a dashboard.
Nov 20, '15 7:35 AM
We hear all about user-centricity as approach to product design. But what are some of the other approaches, how do they work and are they better?
Nov 16, '15 3:49 PM
The generation effect relates to a phenomenon observed with the ability to better retain information for content that was generated by users themselves.
Nov 15, '15 11:21 AM
User experience (UX) cannot be designed. User experience is rather the outcome of design, i.e. how a user feels about a product, when using it.
Oct 30, '15 11:11 PM
Aaron Koblin: Visualizing ourselves … with crowd-sourced data
Artist Aaron Koblin takes vast amounts of data — and at times vast numbers of people — and weaves them into stunning visualizations. From elegant lines tracing airline flights to landscapes of cell phone data, from a Johnny Cash video assembled from crowd-sourced drawings to the "Wilderness Downtown" video that customizes for the user, his works brilliantly explore how modern technology can make us more human.
Original post at:

http://www.ted.com/talks/aaron_koblin
Oct 30, '15 11:11 PM
Turning a smartphone into a hologram projector
Bored of New Apps? This is my tutorial on how to turn your phone into a Hologram Projector!
Original post at:

https://thegrid.ai/sense-i/turning-a-smartphone-into-a-hologram-projector/index.html
Oct 30, '15 11:11 PM
Touchable Holography
We will present "Touchable Holography" at SIGGRAPH 2009 Emerging Technologies. http://www.alab.t.u-tokyo.ac.jp/~siggraph/09/TouchableHolography/SIGGRAPH09-TH.html http://www.alab.t.u-tokyo.ac.jp/~shinolab/
Original post at:

http://www.youtube.com/embed/Y-P1zZAcPuw
Oct 30, '15 11:11 PM
A Brief Rant on the Future of Interaction Design
So, here's a Vision Of The Future that's popular right now. It's a lot of this sort of thing. As it happens, designing Future Interfaces For The Future used to be my line of work.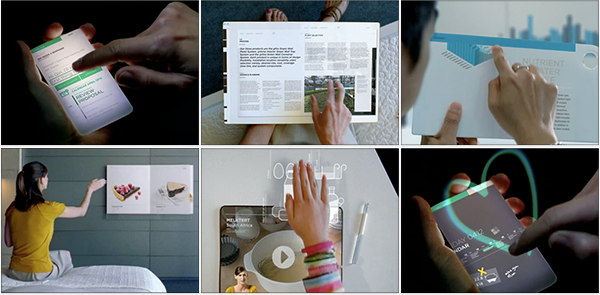 Original post at:

http://worrydream.com/ABriefRantOnTheFutureOfInteractionDesign/